Tony Levy
Singer, Songwriter & Guitarist
MUSICAL BIOGRAPHY
*****************************************
"DO I LOOK OLD ENOUGH TO HAVE BEEN IN BANDS FOR OVER 40YEARS?"
*****************************************
Born 1951 in Hackney, East London.
No known early musical influences.
My Mum used to sing to me a lot; we always had music in the house and got an acoustic guitar for my birthday when I was 7 or 8.
Apart from singing in the choir and entertaining family and friends, joined my first proper band in 1964, when I was just 13, a Skiffle Group called "The Young Brothers". We had various line ups and name changes. We toured in the Benelux countries and were the house band, opening the set for numerous UK and American acts, at the Granada, Walthamstow, including "Johnny Kidd & The Pirates", whose Bass Guitarist, Nick Simper (later a founder member of "Deep Purple"), became a friend for several years.
That same year I appeared with a folk group at a youth club rally in Trafalgar Square, before an audience of around 2,000 people and saw "The Beatles" live (although I couldn't hear them for all the screaming), who had a profound influence on me (as I'm sure most musicians say).
In 1965, when I should have been at school, went on tour supporting "The Byrds" and got quite friendly with David Crosby (later of "Crosby, Stills, Nash & Young"), who often drove me to gigs in his Porsche. Bought "Lulu" a coffee at Watford Gap services! After the tour my band "Boz & The Boz People" split up and Ian McLagen, our keyboard player, became a founder member of "The Small Faces".
Played in various bands in the mid sixties, including a brief spell with "Tony Rivers & The Castaways". Started writing my own songs (quite prolifically, albeit mostly not brilliant), some of which were performed in the late 60s and early 70s (mainly co-written) and were rather well received, but none were ever recorded (maybe a few will be soon!).
My youth club band, "The Sound Barrier" was becoming very popular and gigging quite a lot on the London pop circuit for a couple of years, or so (more about them later). I was considered to be a pretty good guitarist in those days, in fact the only guitarist around considered to be better than me, at the time, was a young lad called Laurie Wisefield, who later joined "Wishbone Ash" and subsequently played with many top acts, including "Tina Turner".
Left them to turn pro with "Strawberry Jam". This band was quite famous for a few months after winning for 3 weeks on Opportunity Knocks and coming back on the all-winners show (don't tell anyone)!!! Got a duff record deal (the great guiding agent was in prison at the time, for being gay) and Pye International released a crap single which never even got into the charts (apparently sold 4 copies in Australia!), was deleted and they didn't return any phone messages. Good friends with "The Sweet" (they got very famous!), "The Move" opened the set on the UK national tour (then they got very famous!), got mobbed by about 2,000 screaming girls in Belfast, did an amazing gig with "The Crazy World Of Arthur Brown" on Haloween night inside Chislehurst caves and played main stage at the National Jazz & Blues Festival to an audience of over 25,000 people, who went absolutely wild. Fantastic feeling! The band soon lost popularity without a record deal and I left.
In the late 60s I played with various pro bands around London, including "Killing Floor", did some roadie work, including for Nick Simper's band "Warhorse", worked as a sound engineer at the famous Abbey Road studios, did some session work, met and worked with a few famous people (don't ask, especially about someone signed up by "The Beatles" to their Apple label, who I went to a "Rolling Stones" gig with). Attended the Isle Of Wight Festivals in 1968 and 1969, headlined respectively by "Bob Dylan" and "Jimi Hendrix". The latter saw 750,000 of us (more than Woodstock had).
In 1970, after visiting my friend Howard Sarna, a former member of "The Sound Barrier", I moved to Leeds in Yorkshire (been here ever since). He had come to study at Leeds University because of the album "The Who" Live At Leeds!
According to the Lancashire Evening Telegraph, I "entertained the fans" at the Clitheroe Pop Festival, in 1971, which was headlined by "The Edgar Broughton Band".
Played in various bands through the 70s, including "After The Storm", "Zinc Bath & The Scrubbers" and an acoustic vocal harmony group, called "Aquatic Jade". Also, played Bass Guitar for "The Paper Dolls", for 5 days (!) and an American Blues old timer, whose name escapes me.
Stage Manager at Leeds Polytechnic events for a year, where I greeted and was responsible for organising the stage crew for many top bands, including "Vinegar Joe" (Robert Palmer & Elkie Brooks), "Stone The Crows" (Maggie Bell & Jimmy McCulloch) and Roger Chapman's "Family". At the end of the seventies played in "Johnny Stretch", a punk band.
The 80s were a bit quiet musically, apart from writing more of my own songs and recording at home (mostly with synths and computers), as I was too busy chasing the buck (quite successfully, actually)!!!
In 1990, after doing a charity gig, started a new band and recycled the name "The Sound Barrier" for a couple of years, mostly playing pubs and Working Men's Clubs. Ditto with my next band "East Lemon Street" for another couple of years, although musically this was the best band I'd been in since "Strawberry Jam".
Joined "Chicago Joe" in 1995, an 8 piece Soul & Motown Band (Laurie Reader joined later that year), gigging extensively until 2003, including three times each at the Chapel Allerton Festival to around 6,000 people and the National Harley-Davison Rally to around 3,000 bikers! Great (and diverse) atmospheres at both!
*****************************************
Other Musical Influences:
TO FOLLOW (Watch This Space)
*****************************************
Available with Acoustic Guitars and/or Electric Guitars & Vocals
(and with various bands, as required) to play live or in the studio
(play with anyone – I'M A MUSICAL TART!)
Luv & Hugs
Tony
XXX
*****************************************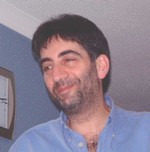 *****************************************
Pictures
© 2005 nathan lucas (top)
© 2002 sandra segal (bottom)
*****************************************
LINK TO TONY LEVY - CURRENT LIVE MUSIC ROLES
PLUS links & info on many other Live Music Acts and Events:
*****************************************
For more information contact:-
Tony on Tel: 07710 295892
or Email: TonyLevy@hotmail.co.uk
*****************************************